K9 First Responder / Paramedic + Tactical (2301-FL-Miccosukee)
Enero 10 @ 8:00 am

-

Enero 12 @ 5:00 pm

EST

$995.00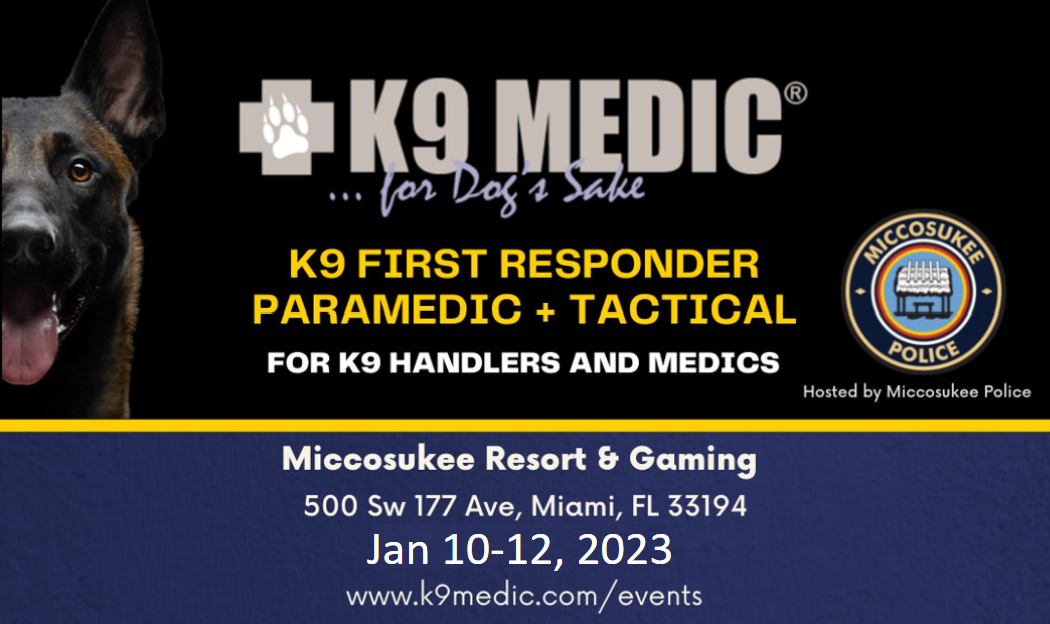 K9 Handlers, Are You…
Wanting to provide the best emergency field care for your partner?
Concerned that your medical training doesn't address your real-world realities?
Looking for strategies on how to better support your K9's performance and safety at home and at work?
EMS/TEMS Providers, Are You…
Tasked with supporting K9s, but unsure how to convert your skills?
Looking for ways to increase your scope of practice with advanced techniques and a whole new species?
Concerned that your veterinary training is clinic-based, and doesn't address the realities of your prehospital/tactical environments?
In need of a few more CE credits for that upcoming renewal?
El programa incluye el manejo de emergencias de K9 tanto en entornos convencionales como tácticos, de modo que estará preparado para responder donde y cuando lo necesite. Los temas abarcan desde el manejo seguro de K9 y las evaluaciones exhaustivas hasta el tratamiento de las emergencias más comunes, como el golpe de calor y la hinchazón/GDV, así como las lesiones tácticas, como las heridas de bala. Las habilidades avanzadas de paramédico incluyen la administración de fluidos IO y las vías respiratorias quirúrgicas.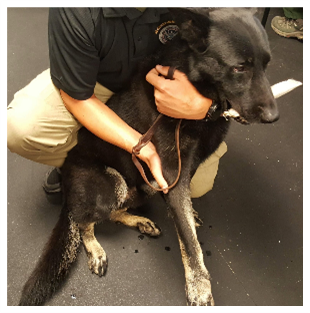 Skill stations  focus on a particular field skill and ensure that each student has accurate muscle memory to ensure skillful delivery long after the class is complete. Primary interventions are repeated until students can do them, literally, blindfolded.
Each station is designed to build on existing knowledge and translation of human medical skills to the canine anatomy. Assessment skills are on live dogs and go beyond basic vitals and teach students how to conduct ongoing observations and trending through typical work cycles to identify and prevent injuries and illness early in development. Handling includes basic carries and constraints and can include advanced handling such as harness lifts and extractions.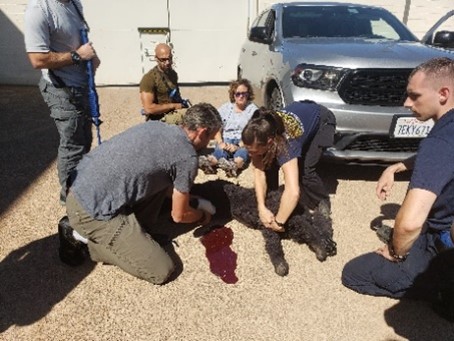 Los escenarios en solitario y en equipo ponen estos conjuntos de habilidades en el entorno de campo probable y requieren que el estudiante arme una secuencia de tratamiento completa, resolviendo el problema de la situación a medida que avanza. Los escenarios se basan en el conjunto de habilidades, el equipo y el perfil de la misión de cada equipo. Por ejemplo, pueden incluirse heridas de bala, artefactos explosivos improvisados o lesiones por compresión en edificios derrumbados, en función del perfil de la misión.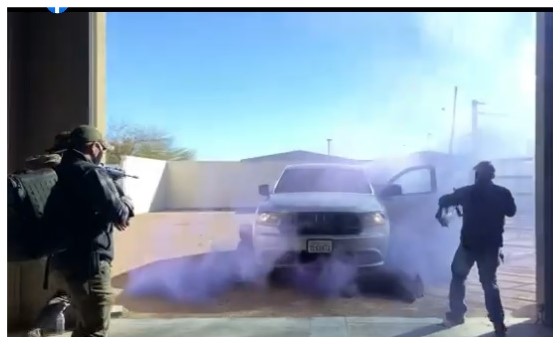 Este componente curricular adicional toma las habilidades aprendidas en los niveles anteriores y las pone en el contexto táctico siguiendo los principios del MMMARCHHH. K9 MEDIC® ha estado enseñando este componente K9 TEMS durante más de una década y se mantiene al día con las recientes directrices K9-TECC, así como las directrices Canine-TCCC.
 Hybrid Program for Different Scopes of Practice:
We've been working with handlers and medics for 15yrs and, with extensive experience and the review of many different integration methods, have created ways to make a mixed program level course very successful. When students register we will gather exist levels of human/veterinary medical skills.  Students with similar skills levels are placed together in the same groups for skills rotations.  During scenarios the different groups are distributed so that Handlers and Medics work side-by-side, just like the real world
 eXperiential Program Format: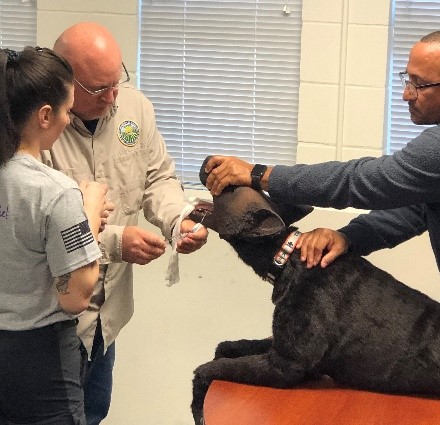 This format of training features a multi-disciplinary instructor cadre including veterinary, EMS and K9 Handler professionals with an instructor ratio of just 4-6 students/instructor.  We also use advanced TacMed Simulation mannikan(s) such as K9 Hero and/or K9 Diesel.
More Details about the Venue and local Hotels

 Click ** 
HERE
** to Learn More about available Group Rate discounts.
Eventos relacionados