K9 Handler + Tactical (2301-FL-FWB)
January 3 @ 8:00 am

-

January 4 @ 5:00 pm

CST

$750.00
K9 Handlers, Are You…
Wanting to provide the best emergency field care for your partner?
Concerned that your medical training doesn't address your real-world realities?
Looking for strategies on how to better support your K9's performance and safety at home and at work?

The program includes handling K9 emergencies in both conventional and tactical environments, so you'll be prepared to respond wherever and whenever you need to. Topics range from safe K9 handling and comprehensive assessments to treating the most common emergencies such as heat stroke and bloat/GDV, as well as tactical injuries such as gunshot wounds. 
Skill Stations 

Skill stations  focus on a particular field skill and ensure that each student has accurate muscle memory to ensure skillful delivery long after the class is complete. Primary interventions are repeated until students can do them, literally, blindfolded.
Each station is designed to build on existing knowledge and translation of human medical skills to the canine anatomy. Assessment skills are on live dogs and go beyond basic vitals and teach students how to conduct ongoing observations and trending through typical work cycles to identify and prevent injuries and illness early in development. Handling includes basic carries and constraints and can include advanced handling such as harness lifts and extractions.
Scenarios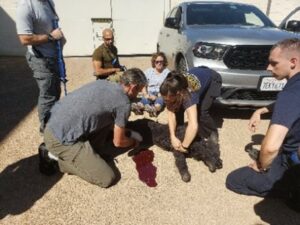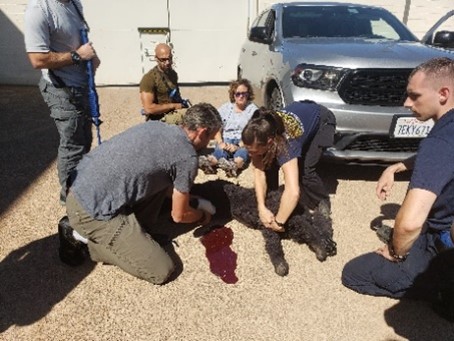 Solo and Team Scenarios then put these skillsets into the likely field environment and require the student to put together an entire treatment sequence, problem solving the situation as they go. Scenarios are based on the skillset, equipment and mission profile of each team. For example GSWs, IEDs or collapsed building compression injuries may be included depending on the mission profile.
+ Tactical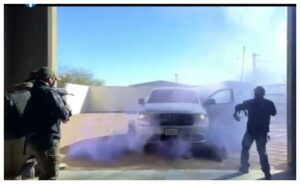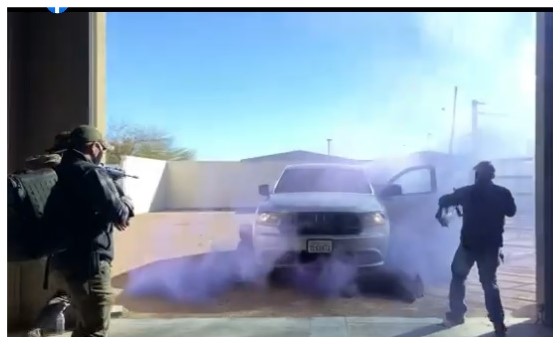 This add-on curriculum component takes the skills learned in the above levels and puts them into the Tactical context following MMMARCHHH principles. K9 MEDIC® has been teaching this K9 TEMS component for more than a decade and stays current with the recent K9-TECC guidelines, as well as Canine-TCCC guidelines.
High Def / Intensive Program Format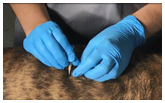 This format of training features the ultra realistic training for maximum learning, outcomes and and confidence including advanced K9 mannikans from TacMed Simulations (K9 Hero and/or K9 Diesel) and environmental simulations.
Related Events